Expedition Update
What time is it right now on Mount Everest and in Kathmandu?
May 15th
Video footage of first teams to reach summit this season show conditions look good for our team's summit day on Sunday
Today our team is expected to make its summit bid. Already the first teams have made it to the summit and have sent back some amazing footage. The weather looks very favorable--no pack straps, snow, or flags blowing sideways in the film clip!
The first teams took longer than expected to get to the summit because they had to establish some fixed ropes on the route. Now that the ropes are there, our team and subsequent ones will be able to use them, and so can get to the summit faster. That's the trade off--you get the honor of being "first teams to the summit", but you might end up having to commit to establishing and leaving some fixed ropes.
So they will probably be waking up at around 10pm the evening of May 15th (Nepali time) to brew up sweet tea for breakfast plus extra to take in their packs. They will also be getting dressed--slowly because of the effort, the extreme cold, and the thin air at Camp 4. They will also try to eat as much food as possible, even if they are feeling nauseous from the extreme altitude. They will need every calorie they can consume to keep them warm and moving during the roundtrip push.
This part of the climb is where some very famous and accomplished climbers and guides have died in the past. Tom and his team will do everything possible to get up and back safely and quickly.
When they are ready to depart, they will be using their supplemental oxygen systems to provide the warmth and energy to make it all the way from Camp 4 to the summit--then back again before dark.
And it's a LONG way--a long way to walk and 2,953ft./900 meters of vertical rise, all at 26,000ft. plus!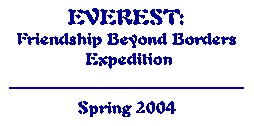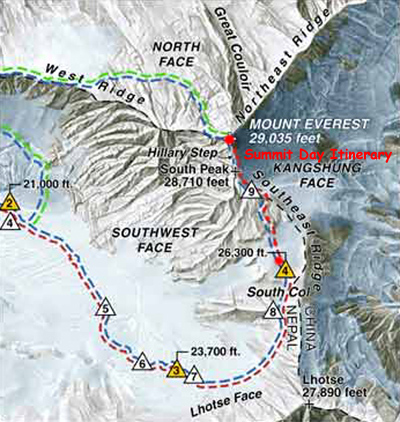 This is the last leg of our team's journey to get to the summit of Mount Everest. Our team's success now hinges on the weather. It currently looks favorable for summit day, but might be snowy as they descend to the lower camps on their return. You can track the changing weather conditions and other news on Mount Everest by visiting these websites:
ExplorersWeb.com
MountEverest.net
Snow-Forecast.com
On Summit Day the team will certainly be wearing their downsuits, which they probably have not needed until now. They will also be using their supplemental oxygen systems, in order to stay warm and energized.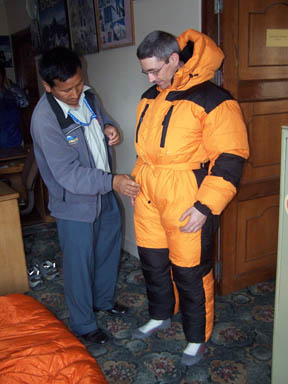 To stay mentally alert, safe, warm, and energized our team will use supplemental oxygen during their summit day push.