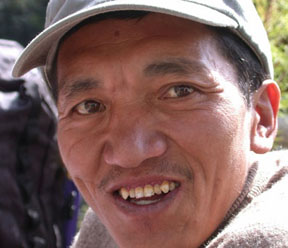 Nima Tashi Sherpa is a very accomplished and respected climber who has a reputation for excellence that makes him highly sought after by expeditions every year. We were very fortunate to have him on our team.

Expedition Team Member

Nima Tashi Sherpa, Climbing Sirdar
8 Times Everest Summiteer

A native of Khumjung in the Solukhumbu region, Nima Tashi Sherpa (44 yrs) has served as Sirdar (the Sherpa climbing leader) on many Everest expeditions, including the 2002 National Geographic 50th Anniversary Everest Expedition commemorating the first ascent of Everest in May 1953 and the first American ascent 1963. The sons of Everest pioneers Hillary, Norgay, and BishopóPeter Hillary, Jamling Norgay, and Brent Bishopówere among the team that also made a documentary about that climb.
As Sirdar of our expedition, Nima Tashi was in charge of getting the team safely to the summit and back. He was also in charge of our Sherpa team members, and was our liaison to the other expeditions. When he stepped on the summit of Mount Everest with Tom on May 16th, it was his 8th time there. Not only that, but it happened to also be his birthday. A very auspicious day for Nima Tashi!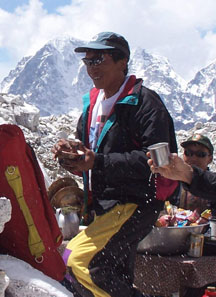 Nima Tashi guided us through the puja ceremony held at our base camp at the start of the expedition. His wife also kindly trekked up all the way from Pangboche to attend the ceremony and bring the chang used as part of the blessing of the climbing equipment and the camp.