Expedition Update
May 22nd
Team is in Lukla (9,350ft.), waiting for weather to improve
You can follow their progress on this National Geographic
map as they leave the Khumbu region
Tom McMillan left a short message by satellite phone on Saturday afternoon Pacific Time/early Sunday morning Nepali Time.
He said that they were in Lukla, waiting for a flight to Kathmandu. But the heavy clouds and rainy had prevented any flights into or out of that airport for the time being.
They will have to wait there until the weather improves. Weather maps indicate rain for that area, heaviest during Sunday night, with generally light winds.
--Linda McMillan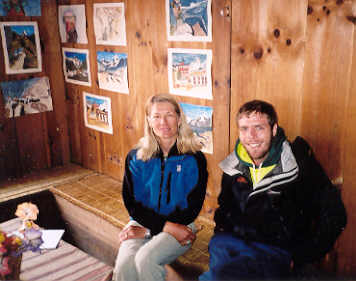 At the offices of Porters' Progress in Lukla, I had the chance to meet Ben Ayers. I learned more about the crucial role that porters play in Nepal and what is being done by Ben Ayers and his team to protect them.
Having completed the Everest base camp trek, I had a better idea of what it must be like for porters who find themselves in the high mountain areas without adequate clothing to keep them warm and dry. After my visit to the Porters' Progress office, I returned to my lodge to repack my duffle bags before flying to Kathmandu the next day. This gave me the perfect chance to pull out all the items I would no longer need, and donate them to Porters' Progress.
I encourage you to learn more about the crucial role that porters play in Nepal, and what YOU can do, as a trekker or climber, to protect them.