Expedition Update
May 9th
Update call from Expedition Leader Tom McMillan--Team back at Base Camp, waiting for weather to stabilize


Tom called via satellite phone today to let us know that he and the team have just arrived back at Everest Base Camp from their rest days down in the beautiful village of Deboche (12,370ft.).

The team continues to enjoy good health, fitness, and acclimatization. He reported that they hiked from Lobuche (16,463ft.) to base camp (17,598ft.) in just over two hours. During our initial trek to base camp in March, it took us almost an entire day to cover this distance !

Right now our team, as all the others there, are simply waiting for better weather on Everest's upper reaches so they can make their summit bid. To do so right now would be much too dangerous because of the high winds, resulting poor visibility with blowing snow, and extreme wind chill factors. As the teams keep an eye on the changing weather on Mt. Everest, you can do the same (see suggested links on the right side of this page).

As for the local scene there at Everest Base Camp, Tom reports that Dr. Luanne Freer, one of the volunteer doctors running the Himalayan Rescue Association clinic there, will be heading back to the US (Montana) next week. I know that everyone there will be sorry to see her go, but luckily another doctor is arriving to replace her (and help Dr. Denise Merritt, who remains there).

You can find more info about this wonderful group of people at basecampmd.com. --Linda McMillan

While waiting out the bad weather, the team can stay in shape by hiking up smaller peaks in the area. Here Tom is headed up the grassy lower slopes of Pumori, across the valley from base camp.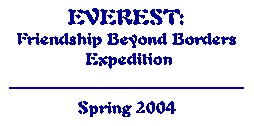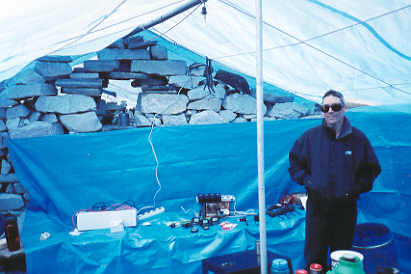 Tom at our base camp Communications Command Post, nestled in the shelter of the dining tent. You can see why we refer to this as "The Blue Room".

You can track the changing weather conditions
on Mount Everest by visiting these websites:
Everest Factoid of the Day:
The Danger of Wind
To give you a better idea of what conditions are like high up on Mt. Everest, here are some interesting facts about the mountain from MountEverest.net:
Mount Everest is a very cold place. The temperature on the top part of the mountain never rises above freezing. In January, the coldest month, it can drop to -76 degrees F (-60 C) and averages -33 (-36 C). Even in July, the warmest month, it averages only -2 (-19 C). The wind is fierce and deadly. Everest (29,035 feet; 8850 m) juts 5-1/2 miles into the atmosphere.
In the winter, the high-flying jet stream hurtles in from the north and batters Mount Everest with hurricane-force winds exceeding 177 mph (285 km/h). Climbers venture onto the glacier-carved summit pyramid only a few weeks of the year.
Storms dumping ten feet (3 m) of snow can bury camps. Even when skies are clear, gale-force winds can drive back climbers with airborne sand, small stones, snow, and sharp bits of ice. However, in May and sometimes October the winds slacken enough for attempts on the summit. This is sometimes called "the weather window" on Everest.
The subtropical jet stream tends to form during the hemisphere's cold season. It is initiated by warm air flowing away from the tropical regions. This poleward air flow, however, is steered off its north-south course by the Coriolis effect until it takes a mostly easterly path at around 30 degrees latitude at an altitude of about 15 km (48,000 ft). It is thought that the subtropical jet stream may aid in the development and steering of tropical storms and disturbances.