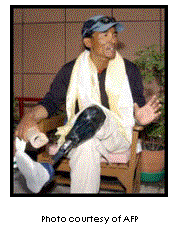 FOR IMMEDIATE RELEASE
Once Is Not Enough: Second Record-Breaking
Himalayan Ascent Planned by Sherpa
Climber-Amputee and San Francisco Bay Area Friend

<![if !supportLineBreakNewLine]>

San Rafael, California ― January 20, 2006

It wasn't enough that trans-tibial amputee Nawang Sherpa arrived exhausted at the 29,035ft summit of Mount Everest May 16, 2004 just after dawn, having climbed all night wearing a prosthetic leg, burdened with a spare leg and large bottle of oxygen in his backpack. He also had not eaten in three days, and his drinking water was now gone. His thermos of tea had shattered when he tried to use the pick of his ice axe to remove a layer of ice that had formed at the top. Yet none of these and other hardships he endured over the years were ever enough for Nawang to give up his goal to become the first person to climb Everest with a prosthetic leg.
<![if !supportEmptyParas]> <![endif]>
As the team basked in the surprisingly clear, calm and mild weather on the Top of the World, it was obvious that all the prayers for success and blessings the team had sought prior to their Everest attempt were being answered with huge affirmation by the mountain and weather deities. The views from the summit were as dramatic, far-reaching, and inspiring as the reasons the team had for getting there together. Nawang's lifelong goal to climb Mount Everest, despite a see-saw chain of great opportunities and terrible tragedies, had been achieved thanks to his San Francisco Bay Area climbing partner Tom McMillan and the Friendship Beyond Borders Expedition.
<![if !supportEmptyParas]> <![endif]>
But inspiring amputees and others around the world by scaling a huge Himalayan peak once is not enough for Nawang and Tom. They now plan to scale another one this spring—the world's 6th-highest peak, Cho Oyu (8,201m; 26,906ft). The 2006 Friendship Beyond Borders team will include Colorado mountaineer Pete Lardy, who in 2003 climbed Mustagh Ata (7546m; 24,750ft) in western China with Tom to prepare for Everest. Guiding them again will be their friend Nima Gombu Sherpa, a 10 times Everest summiter. Another member of this year's team will be Nawang's movie-star-handsome younger brother, Ang Dawa Sherpa. Having completed his high-altitude mountaineering training last year, this will be Ang Dawa's first opportunity to join a Himalayan expedition as an aspiring Climbing Guide.
<![if !supportEmptyParas]> <![endif]>
Nawang Sherpa's left leg was crushed six years ago in a motorcycle accident in Nepal. A year later, a group of his American friends drew together a network of people willing to provide him with donations of high-quality prosthetic care and equipment from clinics in California and Minnesota.
<![if !supportEmptyParas]> <![endif]>
A chance to climb Mount Everest in 2003 with the legendary American mountaineer and double amputee Ed Hommer was suddenly dashed when Ed was tragically killed by rockfall on a training climb of Mount Rainier. Later that year, Tom McMillan received the opportunity to climb Mount Everest, and invited Nawang to climb it with him. They gained the summit of Everest on their first attempt, despite the fact that Nawang had decided not to train for the climb and risk injuring his leg or prosthesis. For the Cho Oyu climb, Nawang plans to test some new high tech prosthetic equipment from a company in Seattle, Washington. 
<![if !supportEmptyParas]> <![endif]>
This year, Nawang is willing to strap on his crampons, grab his ice axes, and take on a big peak again with his Friends Beyond Borders team to raise global awareness of the abilities and needs of amputees around the world. In doing so, he will become the first trans-tibial amputee to climb two of the world's fourteen 8,000m (26,246ft) peaks. Why go to such heights in such difficult places? For Nawang and his team members, the challenges and success on high mountains are clear metaphors for what we all encounter and need in life. Nawang points out that in today's world of armed conflicts, terrorism and natural disasters "There are so many amputees and disabled people in the world! I would like to give encouragement to all of them by climbing these high peaks with the help of my international friends and sponsors."
<![if !supportEmptyParas]> <![endif]>
Expedition leader Tom McMillan highlights just how important and effective this type of encouragement can be. Not knowing quite what to do for Nawang a few months after his leg was crushed in the 2000 accident, Tom sent him a copy of the book "Second Ascent", showing the struggles and remarkable accomplishments of American climber-amputee and MIT professor Hugh Herr.  The effect was life changing:
<![if !supportEmptyParas]> <![endif]>
"When he saw that Hugh had overcome his severe injuries and regained his ability to enjoy climbing at a high level, Nawang realized he too might be able to do that. Like Nawang's friend the late Ed Hommer, Dr. Herr is a double amputee and avid climber who has not let his injuries keep him from excelling in his sport and career. In fact, Hugh has become a world leader in the field of biomechatronics, technologies that seek ways to merge the functioning of body and machine. Hugh's story enabled Nawang to envision a better future for himself. His American friends then came together to find any way possible to turn that vision into a reality. Like Hugh, Nawang is an inspiration to everyone who meets him and learns of his extraordinary achievements. In five years, Nawang has overcome terrible tragedy, suffering and hardships to become one of the world's top disabled athletes, and is now focused on helping other amputees, just as Hugh helped him. He deserves the respect and support of all of us."
<![if !supportEmptyParas]> <![endif]>
One of the team's supporters this year is the blind American rock climber and mountaineer Erik Weihenmayer, who climbed Mount Everest in 2002. Erik has suggested that the team visit the energetic and courageous blind Tibetan teens from the Braille Without Borders school in Lhasa who climbed with him to 21,000ft on the north side of Everest in 2004. We are also inviting the Chinese Mountaineering Association and other alpine clubs in the region to have amputees from their countries trek to our Cho Oyu base camp to meet Nawang and his team.
<![if !supportEmptyParas]> <![endif]>
Tom McMillan's wife, Linda, who will serve as the team's Base Camp Manager and Public Relations Manager, explains the team's motivation this way:
"Amputees, especially those in developing countries, struggle to overcome a huge 'mountain' of personal, financial, and social obstacles every day. The Friendship Beyond Borders team, sponsors, and supporters recognize this, and honor amputees' efforts to keep going despite the constant challenges they face in their lives. From the summit of Mount Everest, we saw a clear path into the future for our team to be able, through climbs and presentations, to motivate and challenge people around the world to think differently about what amputees can accomplish. By climbing in China this year, we want to highlight that country's accomplishments in devoting the first two decades of this century to improving the lives and rights of its almost 60 million disabled people. We also want to provide encouragement to the aspirations of China's amputees and other disabled people, as the country prepares to host the Olympics and serve as an important leader in the world economy."
<![if !supportEmptyParas]> <![endif]>
The CHO OYU Spring 2006: Friendship Beyond Borders Expedition will focus public attention on the huge economic and social value of helping amputees find ways to succeed in life. In particular, it will help to shatter stereotypes and preconceptions about what amputees can achieve when given opportunities and friendship, beyond the borders of nationalities, cultures, and physical abilities. And it will certainly challenge all of us to reconsider what might be preventing success in our own lives.
<![if !supportEmptyParas]> <![endif]>
The team plans to begin its expedition to China in early April, stopping first in San Francisco's sister city, Shanghai. They will be welcomed there at an event held at the new offices of San Francisco-based AMB Property Corporation, which helped to sponsor the team's 2004 expedition.  From there they will fly to Lhasa where they will rest, acclimatize to that altitude, and rendezvous with their Sherpa teammates arriving from Nepal. They will then travel to the mountain trailhead by truck, trek to the Cho Oyu Advance Base Camp (18,700ft; 5,700m), and begin their acclimatization regime. They expect to reach the almost 27,000ft summit via the Normal route some time in late April or May, depending on when the optimal "weather window" on the mountain presents itself.
The American Alpine Club (AAC), based in Golden, Colorado is again conferring tax-deductible benefits to donations made to the expedition. For information about how you can participate in the expedition through your monetary and in-kind donations, please visit the Friendship Beyond Borders website. Monetary donations can easily be made online this year via the AAC's "Blacktie-Colorado" donation system: http://friendshipbeyondborders.com/expedition/contributors.htm 
Further information, news, images, and updates on the expedition can be found at the Friendship Beyond Borders website: http:///FriendshipBeyondBorders.com.
<![if !vml]>

<![endif]><![if !supportEmptyParas]> <![endif]>
<![if !supportEmptyParas]> <![endif]>
<![if !supportEmptyParas]> <![endif]>
For additional information, contact:
Linda McMillan, MBA
CHO OYU Spring 2006: Friendship Beyond Borders Expedition
c/o McMillan Associates
721 Appleberry Road
San Rafael, CA 94903
<![if !supportEmptyParas]> <![endif]>
415.309.7961 mobile
415.479.0526 fax

Linda@FriendshipBeyondBorders.com
http://FriendshipBeyondBorders.com
 
<![if !supportEmptyParas]> <![endif]>
McMillan Associates, located in Marin County just north of San Francisco, is a business consulting firm focused on creating innovative solutions and sustainable economic success for businesses and communities. We also believe that strong businesses and communities result when their people contribute in many ways to overall economic, environmental, and social success. Not only do we encourage this in others, we make it an important part of what we do. For further information, please visit our website at: www.lindamcmillan.com.
<![if !supportEmptyParas]> <![endif]>
The American Alpine Club is a national 501(c)(3) non-profit organization that has represented climbers for over a century. Founded in 1902, The American Alpine Club is a nonprofit organization dedicated to promoting climbing knowledge, conserving mountain environments, and serving the American climbing community. The AAC has members throughout the U.S. and across the globe. For further information, please visit our website at: http://AmericanAlpineclub.org/
<![if !supportEmptyParas]> <![endif]>
<![if !supportEmptyParas]> <![endif]>
<![if !supportEmptyParas]> <![endif]>
# # # # #
<![if !supportEmptyParas]> <![endif]>