Friendship beyond borders accomplished
Nawang Sherpa has accomplished his dream by climbing the Everest this spring. Nawang with his American friend Tom McMillan reached the summit on 16 May, 2004. The team started at nine in the evening from the south ridge and it took eleven hours to reach the summit. Nawang who is an amputee wanted to prove that a disabled can achieve anything if he is self-motivated and encouraged by others.
"I still don't believe that I had been to the summit, it was a good experience indeed", expresses Nawang. He said that he had no problem with his artificial leg while climbing; however, the hardest part of the climbing for him was the Hillary step. Also, he had to give special care to his leg as he was afraid of getting frost bites. "The special carbon fiber helped resist the cold but still I protected my leg with the help of a special sleeping bag just around my leg while sleeping", he said. Nawang had received a special prosthetic care in the United States with the help of his employer of Peak Promotion and his American friends. While being treated in America he was asked if he wanted to build his career in software programming he boldly said that he wished to climb the Everest and work as a guide again.
Nawang met with an accident in 2000 in which he lost his left leg. This incident did not leave him depressed for long as his friends helped him stand on his feet again. "I can't believe that we were there and mostly I'm happy for Nawang for achieving this great feat with him and to be able to help him as a friend", shared Tom.The expedition was sponsored by AMB, an American software company where Tom is a Business Executive and the expedition was carried out to demonstrate the power and importance of friendship in overcoming the challenges in life and to inspire and encourage the disabled around the world.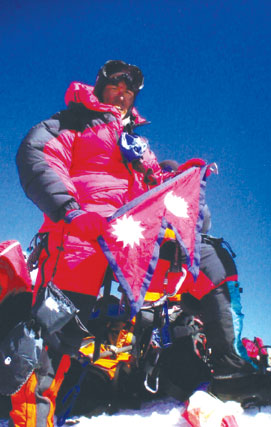 TAAN Concludes its Silver Jubilee Celebration
Celebrating the 51st Anniversary of the first human ascent of Mt. Everest, Trekking Agents Association of Nepal (TAAN) concluded its Silver Jubilee Celebration by honoring prominent persons from different walks of life including persons involved in tourism journalism to adventure tourism.
The Chief Guest, Deputy Speaker Chitra Lekha Yadav spoke on various topics to maintain a sustainable development of adventure tourism in the country. Marking the concluding Silver Jubilee Ceremony, she released a souvenir book entitled: "TAAN Silver Jubilee Ceremony 1979-2004" published by TAAN Press & Publicity Committee (TPPC).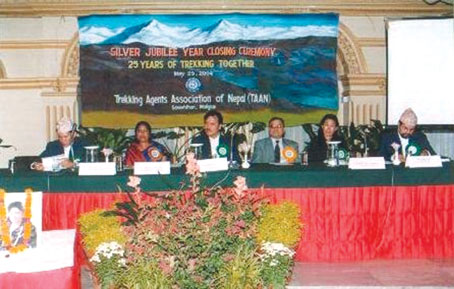 On behalf of Ministry of Culture, Tourism and Civil Aviation, Joint Secretary, Mr. Shanker Prasad Pandey assured that the government is doing its best to give high priority to the tourism sector.
President of TAAN, Mr. Deepak Mahat highlighted the objectives and achievements of TAAN which are already achieved and to be achieved in near future. Earlier, I Vice President, Ms. Bandi Nima Sherpa gave her speech welcoming the distinguished guests.
On the occasion, concluding the ceremony, the prominent entrepreneur in the field of adventure tourism, General Secretary of TAAN, Mr. Hari Prasad Dharel concluded the ceremony by expressing his valuable opinions.