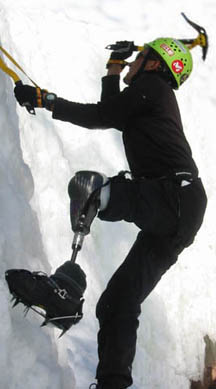 Nawang Sherpa training in Minnesota for his attempt on Mount Everest, under the guidance of Tom Halvorson
Northern Orthotic &
Prosthetic Center
Helping our patients achieve their potential in life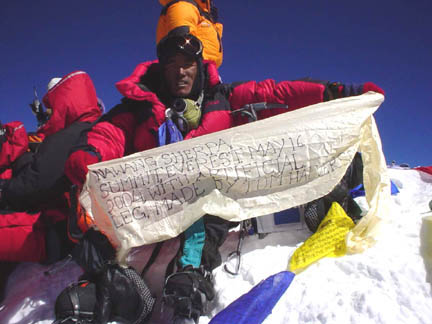 Nawang Sherpa on the summit of Mount Everest May 16, 2004

Tom Halvorson, C.P., R.T.P.O., Certified Prosthetist, Co-Owner
Tom is a mountaineer, ice climber, and outdoorsman who has proven his professional expertise by helping patients reach the pinnacle of success in their lives.
The prosthetic expertise he has provided to Nawang Sherpa of Nepal (see photos above) allowed him to successfully climb to the summit of Mount Everest on May 16, 2004. Tom has worked with Nawang since 2002 to fit him with a comfortable, high altitude climbing prosthesis.
Tom also serves on the Board of Directors of the High Exposure Foundation. Its goal is to help amputees return to their original level of physical activity after recovering from debilitating injuries.
Greg Francisco B.A. C.O., Certified Orthotist, Co-Owner
Greg is a certified orthotist who has been serving the communities of northern Minnesota, Wisconsin, and Michigan for over 25 years.
Kevin Charon R.T.O.
Kevin is a highly skilled registered technician with over 20 years of experience.
© Northern Orthotic & Prosthetic Center 2004-8. All rights reserved.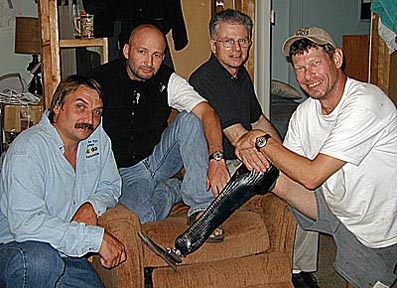 Tom Halvorson (shown in the photo, far left with mountaineers Kelly Raymond, Jim Wickwire, and Ed Hommer) was also a close friend of renowned American mountaineer, the late Ed Hommer of Minnesota. Ed was a bi-lateral amputee who climbed Denali (Mount McKinley) in Alaska in 1998 using two prosthetic legs. With the help of Tom, Ed Hommer achieved success in many ways in his life including being a commercial airline pilot, a world-class athlete, and a mountaineer.
Ed had planned to climb Mount Everest with his friend Nawang Sherpa in 2003, but was tragically killed by rockfall while training on Mount Rainier in the autumn of 2002.
But The High Exposure Foundation, founded by Ed Hommer, lives on and Tom Halvorson works closely with it. The foundation continues Ed's goal to help people in the developing world, like Nawang Sherpa, receive advanced prosthetic equipment that will help them rebuild their lives after a severe injury.
Just like Nawang's expedition team on Mount Everest, the professionals at Northern Orthotic and Prosthetic Center function as a close-knit, highly-skilled team to help you reach your goals.
This team spirit is evident in the way Tom Halvorson describes the company:
"Greg, Kevin and I have worked our entire careers together and it is great to be all back together again, at Northern Orthotic and Prosthetic Center."