"Clip in" with Nawang and our Team!

Contribute to the Success of our History-Making Spring 2006 Expedition
Advantages of Corporate and Individual Sponsorship of our Expedition
We invite corporations, individuals, businesses, and other organizations to support our Friendship Beyond Borders team and the inspiration they provide to amputees and other people around the world. For those in the US, we offer tax-deductible benefits for your monetary or in-kind donations through the 103 year old climbing organization that represents American climbers around the world, The American Alpine Club. Want to make a tax-deductible cash donation quickly and easily? Just follow the instructions on our Contributors page.
Here is what we need:
Become a Sponsor now to enjoy the highest levels of global attention for your organization's products or services, plus other benefits
A message from Nawang Sherpa:
"There are so many disabled people in the world! I would like to give encouragement to all of them by climbing these high peaks with the help of my international friends and sponsors."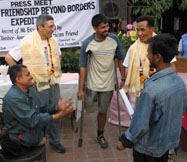 A message from Expedition Leader Tom McMillan:
"The power of Friendships Beyond Borders cuts right through any differences of nationalities, cultures, economics, or geography.
Our friend Nawang is an inspiration to everyone who meets him and learns of his extraordinary achievements. In five years he overcame terrible tragedy, suffering and hardships to become one of the world's top disabled athletes. He deserves the respect and support of all of us."