Schwarzenegger discusses energy in China
(AP)
Updated: 2005-11-15 20:15
Gov. Arnold Schwarzenegger began his three-city China trade mission in earnest by focusing on renewable energy and praising a Silicon Valley-designed solar chip as part of the future of energy efficiency in China and at home.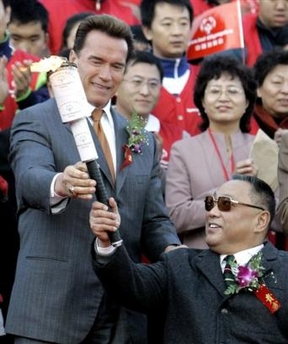 California Governor Arnold Schwarzenegger, left, hands the Special Olympics torch to Deng Pufang, the Chairman of the China Disabled Persons' Federation at the Special Olympics torch run ceremony at Beijing's Millennium Monument Monday Nov. 14, 2005. Schwarzenegger carried the torch during the ceremony held to celebrate the growth of the Special Olympics in China and focus attention on the Special Olympics World Summer Games which are to be held in Shanghai in 2007. [AP]
Schwarzenegger made his remarks in a speech Tuesday morning, a day after a ceremonial event where he and his wife, Maria Shriver, were briefly 'mobbed' by photographers and fans.
The Republican governor was introduced by former President Bush, whose public policy school at Texas A&M University was sponsoring a China-U.S. relations conference.
"When your old boss calls you, you immediately say yes," Schwarzenegger joked of his appearance at the conference.