wisely waiting for the weather to calm higher up on the mountain. As a result, they just arrived in Camp 3 (24,500ft.) and plan to stay there to rest. The next day, Saturday May 15th, they will press on to Camp 4 (at the South Col, 26,100ft.).
They are currently expecting to reach the summit (29,035ft) on Sunday, May 16th.
Weather forecasts indicate that the jet stream continues to move off the summit of the mountain right now. So as the team climbs higher, the weather should continue to improve. This gives them considerable safety as they ascend. However, the same forecasts indicate that they may experience some snowfall on their descent. They will have to be careful during that period, as they will also be fighting fatigue.
Tom says he and Nawang are climbing exceedingly well, and feel "unbelievably strong" at this altitude. And of course our team has three unbelievably strong and capable Sherpas helping them: Nima Tashi (7 times Everest summiteer), Nima Gombu (9 times Everest summiteer), and Pem Dorjee (young, hip, very strong, and headed for his first Everest summit).
One day ahead of Nawang and Tom, breaking trail, are two of the strongest teams on the mountain:
--The Working Title team of Ed Viesturs, Veikka Gustafsson, Jimmy Chin, and Amy Bullard. David Breashears and Robert Shauer plan to film Ed and his group as they ascend, and so they are one day ahead of them on the mountain, poised to film Ed's group as they ascend.
----The Greek-Everest South team, which has a companion team of fellow countrymen currently climbing on the North side of Everest.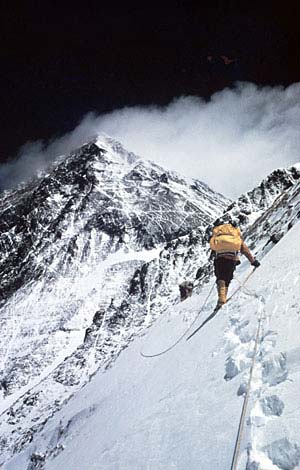 Here is the stunning view that Nawang and Tom will enjoy for the first time in their lives as they climb from Camp 3 to Camp 4 on May 14th. It shows a climber from the first American ascent of Mount Everest (1963) carefully traversing the steep Lhotse face to the South Col, clipped into a fixed rope.