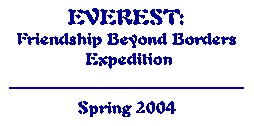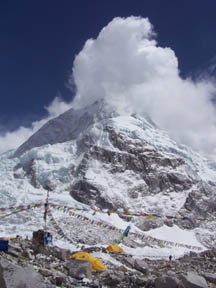 I'll certainly miss the incredible, ever-changing beauty of the peaks, the pure light, and the dramatic weather.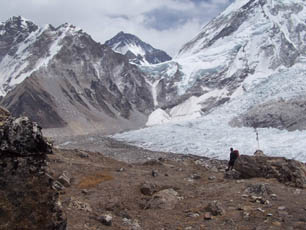 Expedition Update
April 20th
Saying goodbye to Base Camp--Linda McMillan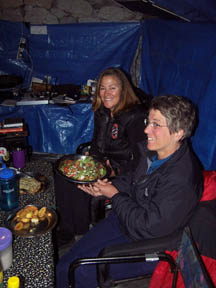 More precious than gold:We were all mightily impressed that Luanne shared with Denise and our team her most precious payment for medical services rendered--fresh green salad with balsamic vinegar. The people at base camp are a rare breed. And small things have a way of taking on huge importance.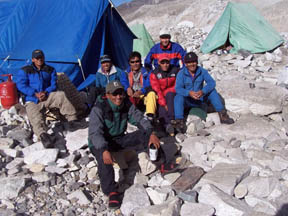 Thanks to our expedition support team, who are the hard-working heroes who create success for the climbing team.
As Tom and Nawang are headed off to Camps II and III for a few days, I will leave base camp today to return to Kathmandu and home to California.
While in Kathmandu, I will be able to update the Peak Promotion staff on the expedition's status and arrange for any additional logistical support that might be needed. In addition, I will be returning to the U.S. with images and information from the expedition to use in updating the team website. I will also become the home contact for information and news about the team and its progress.
Although I've only been at base camp a little more than two weeks, I realize what a huge impact it has had on me. I will certainly miss the place and the people here.
I want to convey my special thanks to the doctors of the Himalayan Rescue Association, Denise and Luanne, for all the comraderie and help they lavish on our team. I also want to thank our Base Camp Manager, Lincoln Else, for the invaluable technical, logistical, and photographic assistance and talent he has provided for our team and the expedition in general.
Most of all I want to send special thanks to each and every member of our support team: our Sirdar Nima Tashi, our climbing Sherpa Nima Gombu, and our talented cook Pemba and his kitchen team, and all the others who helped to get us and all our gear, food, and clothing to base camp.
And of course, GOOD LUCK to Nawang, Tom, Nima Tashi, Nima Gombu as they prepare to go for the summit sometime this month!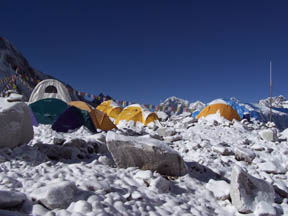 A unique sense of community and mutual vulnerability binds people together at base camp.