At the town of Dingboche (14,271ft.--about the height of Mt. Whitney), our trekking team splits up for a few days. We stay together in town one night, then the next day Nawang and most of the equipment head off to Pheriche and on to Everest base camp directly. The rest of us head northeast to the tiny village of Chukhung for one night then on to the Island Peak base camp.
Although the walk from Dingboche to Chukhung is easy and short, the next day's walk to Island Peak is long and arduous. The weather has turned very cold and windy, sapping our strength as we trudge along the trail. By the time we get there, two of us are feeling thrashed. Lincoln is laid low by the altitude change, and Linda is completely exhausted from the long hike in very cold conditions. No one except the Sherpas seem to have much appetite for food. We are obviously reaching our personal thresholds for effective acclimatization.
This morning only Tom is feeling strong enough to climb Island Peak with Nima Gombu. They get an "alpine start", leaving about 2am and returning, tired but very happy, at about 9:30am. Obviously Tom has the physical strength and acclimatization level needed to keep up with the climbing Sherpas. This will be very important when they get to Mt. Everest.
We break camp at about 10:30am and head back to Dingboche that night. From there we will head over the grassy foothills to Thukla where we rejoin the main route heading to Everest base camp. From there we will stay in Lobuche for one night, then on to base camp the following day. We are eager to get there but are mindful of the need to ascend slowly as we go higher.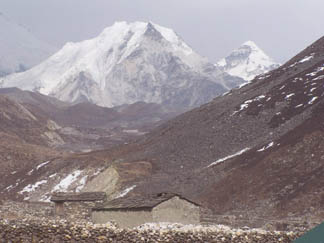 Island Peak/ImjaTse