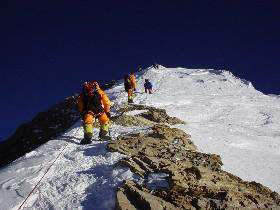 As Nawang Sherpa approached the summit of Mount Everest on May 16, he stopped to take this picture of his friend Nima Gombu just ahead of him. Tom McMillan, Pem Dorjee and Nima Tashi are just a few steps ahead of them,
Most Siblings To Have Climbed Mt Everest
By March 2003, brothers Nima Gombu Sherpa and Mingma Tsiri Sherpa had each reached the summit of Mt Everest eight times, while their siblings Ang Tsering Sherpa and Nima Temba Sherpa had each made one successful ascent.
Parents Nima Tseri Sherpa and Pema Futi Sherpa have a family of seven sons and two daughters. In addition to the four boys who have summitted Everest, two others – Pema Tharchen Sherpa and Thundu Sherpa – have been above 8,000 m (26,246 ft). Their youngest brother, Pasang Tenzing Sherpa, joined an expedition in the summer of 2003.
Father Nima began trekking after working as a mail runner for the explorer Edmund Hillary during his legendery conquest of Everest. His children followed in his footsteps, and now work on Everest assisting in treks and expeditions.

Expedition Team Member

Nima Gombu Sherpa, Climbing Sherpa
Holder of Guinness Record
and 10 Times Everest Summiteer

A native of the village of Gaurishankar in the Rolwaling Boding Dolakha region (just west of the Khumbu region) of Nepal, Nima Gombu Sherpa (35 yrs) has served as a Climbing Guide on many Everest expeditions and is part of a truly extraordinary climbing family (see details on left). Known as much for his compassionate and kind personality as for his incredible physical strength, Nima Gombu adds tremendous emotional, physical, and spiritual value to all his expeditions.
As a Climbing Sherpa on our expedition, Nima Gombu gained the summit of Mount Everest for the 10th time! Five of his brothers have also been to the top of Everest. Quite a remarkable family.
Nima Gombu and his wife also own and operate the Mount Everest Summiters Shop in Kathmandu which offers climbing equipment and guiding services. They live in Kathmandu most of the year with their children.
A devout Buddhist, Nima Gombu accepts a special blessing
by a Lama in Pangboche during our trek in to base camp.