Expedition Team Member
Pete Lardy , Climbing Member

Expert Mountaineer/Snowboarder

A native of North Dakota, Pete (30 yrs) now calls the mountains Colorado his home. He has enjoyed snowsports, rock climbing and mountaineering in the US and abroad for many years. He has expertise in high altitude mountaineering, technical rock climbing, ice climbing, ski mountaineering, and backcountry snowboarding.Pete lives and works in the Colorado Springs area of Colorado.

See more team member information...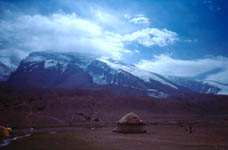 In July 2003, Pete joined Tom McMillan and
Chad McFadden
on a high-altitude training climb on
Mustagh Ata
(7546 meters, 24750 feet) along the ancient Silk Road area in the Xinjiang Province of western China.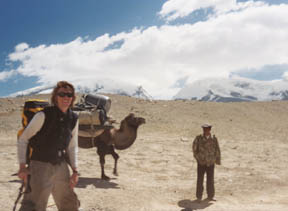 Mustagh Ata borders the huge Takla Makan Desert, where two-humped Bactrian camels (not yaks) help to carry cargo. Pete descended the massive peak on his special "split snowboard", which can be separated into two skis when needed. This enabled him to efficiently ski uphill, then "shred" down in fine style on the combined snowboard.
In 2001 Pete successfully made an unsupported traverse across the huge massif of Denali (Mt. McKinley) -- 32 days from Wonder Lake, across the Muldrow Glacier, up to the SouthSummit, and down to the Kahiltna Glacier! He has also climbed Mt. Rainier in Washington, and over sixty summits in Colorado, including 33 of the "Fourteeners" (peaks 14,000+ feet). Most of these Colorado ascents were done in winter and spring conditions.
As you can see, Pete seems to really come alive in cold, remote, snowy places!