Expedition Team Member
Nawang Sherpa, Climbing Member

Everest Summiteer
A native of the high altitude Solu-Khumbu village of Tapting, Nawang Sherpa (34 yrs) turned his childhood dream of climbing Mount Everest into reality when he reached the summit in perfect weather on May 16, 2004--the first person to do so using a prosthetic leg.
Nawang overcame severe physical injury in 2000 to hold on to that dream and make it a reality in 2004. He had received professional training in mountain climbing and had completed a portion of his certification work for becoming a high altitude porter before his tragic accident in 2000.
After he received his first prosthetic leg, he worked on several treks and climbs in the Everest region, and twice climbed beyond advanced base camp on the south face of Everest.
As a member of our expedition, Nawang gained the summit of Mount Everest for the first time and earned a place in history as the first Nepali amputee (and the first trans-tibial amputee from any country) to stand on top of Everest.
Nawang and his wife have three young boys and live most of the year in Kathmandu where Nawang helps other non-profit groups.
See more team member information...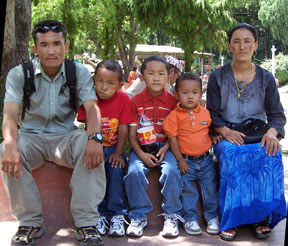 Nawang Sherpa epitomizes the legendary strength, perserverance, gentleness, and indomitable spirit of the Sherpa people. Armed with a positive commitment to success, strong support of his family (shown in Kathmandu with his beautiful wife and their three energetic boys), and the generosity of his many friends, Nawang has been able to create a new life for himself after his injury in 2000. Since he reached his dream to climb Mount Everest, he has become a unique spokesperson for disabled people around the world, particularly in developing countries.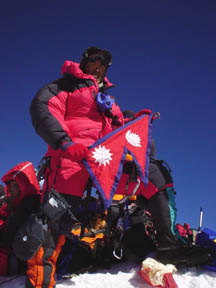 Nawang is the first person to climb Mount Everest using a prosthetic leg. Unlike virtually every other person who has tried to climb Mount Everest, he decided not to train or climb any other peaks before his Everest attempt, as he did not want to risk injuring himself or his prosthesis!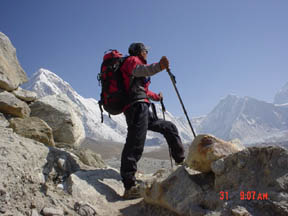 When he's not climbing high mountains or speaking to groups about the capabilities of disabled athletes, Nawang likes to lead treks and take photographs in his native Himalayan region.